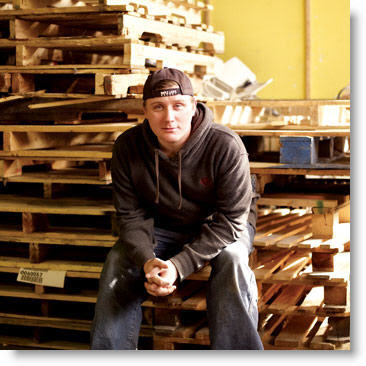 I'm singling out a young man named Dean Walcott as an example of courage in war resistance for these reasons: 1) he is still fighting a battle based solely on his principles, 2) he completed two combat deployments, therefore 3) he is not trying to avoid combat, and 4) I believe that when he succeeds in his efforts to be allowed to remain in Canada, he'll make Canada his home; he'll become a Canadian, and his reasons will be the same as mine – reasons of conscience; good reasons.
Dean Walcott cannot be accused of resisting military service out of concern for his own safety or out of fear. His is an absolutely principled stand to refuse participation in a war that he believed is immoral. Dean Walcott is not a liberal activist or an anti-war crusader. He simply put his humanity above his allegiance to authority. He made his choice on
principle.
I know what it feels like to not be supported or respected for choices I made based on principle; choices I felt morally
obligated
to make. I know what a wrenching decision it is to make moral choices that will not be popular with family, friends, co-workers, church members. To be reviled by others for doing nothing more than what conscience dictates. It's hard. And it requires fortitude.
Dean Walcott joined the active duty United States Marine Corps on August 23, 2000. He deployed to Iraq twice (in 2003 and again in 2005), where he was a machine gunner on a Humvee. In between those deployments he was stationed at a U.S. Army hospital in Stuttgart, Germany, processing paperwork for injured soldiers He was not prepared for what he witnessed there; not only the soldiers who were brought there for treatment, but the families who came to visit them when it was likely those soldiers would never leave the hospital alive. He realized it was all senseless, unnecessary, and morally wrong.
His last command was at a non-deployable Inspector/Instructor unit in North Carolina. Not in Iraq. Not in combat, and not susceptible for re-deployment to a combat zone. Safe assignments. When he decided to desert and apply for refugee status in Canada, he did not do so out of fear.
Originally from Connecticut, Dean arrived in Toronto on December 6th 2006 where he applied for refugee status. On December 3rd, 2008, he was told that he must leave Canada by January 6th, 2009 or face deportation to the United States. The decision follows similar ones in the cases of war resisters Corey Glass, Jeremy Hinzman and family, Patrick Hart and family, and Matt Lowell.
Dean Walcott appealed that deportation order. On December 14th, 2010 the Federal Court began a judicial review of Walcott's deportation order. On April 5, 2011, the Federal Court of Canada released a decision reaffirming that there is evidence that U.S. Iraq War resisters are targeted for punishment because of their political beliefs if returned to the United States. The judgment in the judicial review of Iraq War resister and veteran Dean Walcott's case also confirms that immigration officers must consider the war resisters' sincerely held moral, political and religious beliefs. That decision was the ninth Federal Court or Federal Court of Appeal decision in favour of Iraq War resisters since 2008 and the seventh Federal Court decision to recognize that there is evidence that these war resisters are targeted for more severe punishment because they have expressed their objections to the Iraq War.
Since that 2011 court decision, Dean Walcott has been in a state of limbo. Now 34 years old, Dean and his wife Vanessa and their four children (2 of their own and 2 from Vanessa's previous relationship) reside in Peterborough, Ontario. Dean is working as a personal support worker and continuing his education, eventually he wants to be a nurse.
Dean Walcott is still fighting. To be a Canadian.